Cryptic Vision is a progressive rock band from Sarasota Florida.
They just released their fourth album "Of Infinite Possibilities".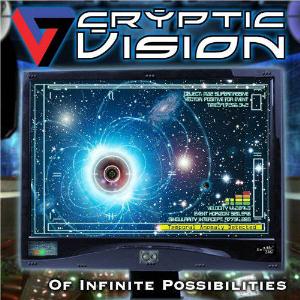 The band was formed in 2003 by multi-instrumentalist Rick Duncan and vocalist Todd Plant.
Rick had produced several albums for local and national artists and Todd had fronted the bands Eyewitness and Millennium as well as working with former Doobie Brothers and Chicago members.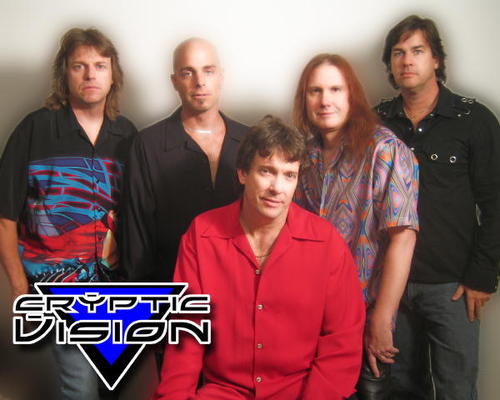 Their first album started primarily as a record
ing project with Todd, Rick and keyboardist Robert Van Dyne.
It featured several guest musicians such as Kansas violinist David Ragsdale, guitarist Ralph Santola (Iced Earth, Sebastian Bach) and keyboardist Howard Helm (Ian Hunter, Zon, Refuge).
In 2004 the band signed with Progrock Records and released their first album "Moments of Clarity".
In 2005 CV became a live act adding bass player/vocalist Sam Conable, guitarist/vocalist Tim Keese and keyboardist John Zahner. They started the year opening for Kansas and in May they performed at the Rites of Spring festival in Phoenixville PA. The performance was recorded and became their second release "Live at ROSFest 2005".
In 2006 Cryptic Vision returned to the studio and started work on their third album "In A World".
Due to schedule conflicts John Zahner who was also recording and touring with Jon Oliva's 'Pain' was not available.
Howard Helm was brought in to track keyboards and stayed on as a permanent member. The album was recorded more as a band project but also featured special guests David Ragsdale, Ralph Santola and Spock's Beard guitarist Al Morse.
After a 5 year hiatus, Cryptic Vision releases "Of Infinite Possibilities".
This CD is part 3 of their trilogy "Moments Of Clarity In A World Of Infinite Possibilities" and is their most ambitious album yet. From the opening 5/4 riff of Singularity to the bombastic ending of the title track, Cryptic Vision takes the listener through a progressive journey of the world we live in. From the scientific to the spiritual, from our inner soul to the outer Universe, the album explores the meaning of our existence. Each song represents a different perspective of how we try to make sense of our world and what lies beyond. Musically this album covers all the bases, lots of odd time signatures, rich chord progressions, intricate rhythms, melodic hooks, powerful vocals and stunning solos.
The bulk of the album was performed by Rick Duncan, Todd Plant, Sam Conable, Tim Keese and Howard Helm but also feature guest musicians David Ragsdale (Kansas), Gary Schutt, John Zahner, Shawn Bowen, John Leblanc, Mike Carello and Carrie Preston.