Coming from Romagna in Italy, Quintorigo started in 1996 with a lineup composed by Andrea Costa (violin), Gionata Costa(cello), Stefano Ricci (contrabass), Valentino Bianchi (sax) and the incredible voice of John de Leo. Their music is initially an experimental fusion of Classical, Jazz and Rock.

Although the musical ensemble is composed only by acoustic instruments, the band often makes heavy use of sound effects like distortion, flanger, wah-wah to recreate most of the rock sound in their songs.
They became known to the maintream public by taking part to the Sanremo Festival in 1999 with a song taken from their debut album "Rospo".
The song is highly unusual for that environment but the critics are very positive. The same year they won the Tenco prize, that's the art side of Sanremo.
In 2005 John de Leo left the band to be replaced by Luisa Cottifogli. Their first project with the new vocalist is based on Charlie Mingus ("Quinotorigo Play Mingus").
In 2008 Luisa has been replaced by Luca Sapio and this is currently the last change in their lineup.
They have collaborated with some Italian prog artists like Ivano Fossati (Delirium), Franco Battiato and the jazzist Roberto Gatto.
They won two times the prize for the best song arrangement at Sanremo, the first place at Arezzo Wave in 1998 and "Quintorigo Play Mingus" has been chosen by an italian jazz magazine as best album of 2008.
They are active supporters of AMREF (African Medical and Research Foundation)
Discography
1999 - Rospo
2001 - Grigio
2003 - In Cattività
2004 - Nel Vivo
2006 - Il Cannone
2006 - Quinto
2008 - Quintorigo Play Mingus
2010 - Le Origini
2011 - English Garden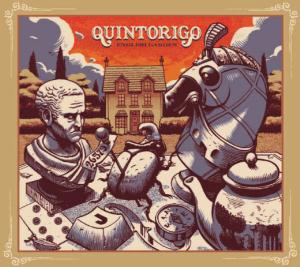 Now the Quintorigo
factory is back with its new album,
"English Garden"
, great proof of their continuous evolution.
Luca Sapio
's voice (succedeed to
Luisa Cottifogli
, who took
John de Leo
's place years ago) perfectly harmonizes with the italian combo's experimentations: blues, 70s rock, punk, jazz and classic melodies. Everything played only with non-rock instruments like violins, saxophones, double-basses and stuff like that. The icing on the cake is
Juliette Lewis
partecipation on the vocals of two tracks.
Listen and try to define it, if you can.