Gekannt haben sich die beiden schon länger. Japan, die New-Wave-Pioniere, bei denen Richard Barbieri einst aktiv war, übten Einfluss auf Steve Hogarth aus. Der wiederum ist Sänger von Marillion, die 2001 einige Konzerte mit Porcupine Tree spielten, jener Progrock-Band, in welcher Richard Barbieri seit 1993 aktiv ist. In einem nächsten Schritt lud Hogarth den Keyboarder und Komponisten ein, auf seinem Soloalbum mitzuwirken.
Und schließlich stellte Barbieri die Möglichkeit einer Zusammenarbeit in den Raum. Im vergangenen Jahr Jahr fand sich die nötige Zeit, das Ergebnis lautet "Not The Weapon But The Hand".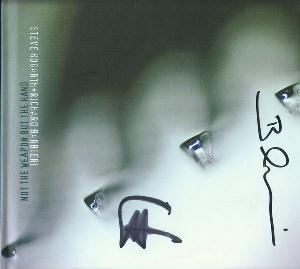 Verwirrend? Nur auf den ersten Blick.
Eine musikalisch gewachsene Freundschaft, so könnte man es vielleicht nennen. Die beiden verstehen sich. Barbieri lieferte die Instrumental-Vorlagen ab, Hogarth verinnerlichte sie. Was dabei herauskam, könnte Anhängern von Porcupine Tree und Marillion gefallen. Muss aber nicht.
Denn mit Rock hat das Projekt nur bedingt zu tun. "Not The Weapon But The Hand" ist eine leise Platte. Möglich, dass genau deswegen der ein oder andere genau hinhört. Die Stimmung zwischen Träumen und Frösteln intensiver wahrnimmt als im musikalischen Alltag. Die natürlichen Instrumente nehmen Gastrollen ein, selbst wenn sie mit Leuten wie Danny Thompson (Kontrabass) oder Chris Maitland (Schlagzeug) durchaus prominent besetzt sind. Der federnde Puls von "Naked" oder der sich in den Vordergrund spielende Refrain von "Only Love Will Make You Free" bilden die Ausnahme.
Ambient, Klanglandschaften, strukturelle Freiheit, das sind dominierende Begrifflichkeiten.
"Es ist nicht die Waffe, welche den Schaden anrichtet. Es ist derjenige, in dessen Händen sie liegt", so die Aussage hinter dem Titel. Es geht um Liebe und Angst, um Gedanken, die sich in der Weite des Universums verlieren. Richard Barbieri und Steve Hogarth malen Bilder, in denen sich Gefühlswelten nicht nur spiegeln, sondern auch auf ihre Daseinsberechtigung pochen. Ein Erlebnis, das fordert, ohne zu überfordern. Oder, um es mit einer Abwandlung des Titels auszudrücken: "Es sind nicht die Töne, welche eine Emotion erzeugen. Es sind diejenigen, in deren Händen sie liegen."
Den Bonus Song "Intergalactic" kann man
hier
gratis runterladen.