Time Horizon is based out of Northern California and has been musically influenced by several symphonic prog rock-groups.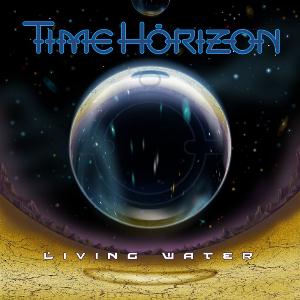 Their first CD "Living Water" melds together stylized lyrics of faith, as well as refined symphonic prog and instrumentals, to bring together the positive inspired sound of Time Horizon.
Sometimes album names are just that, a striking moniker that hopefully conjures up an image that will inspire interest in any prospective purchaser of the band's music. However in the case of Time Horizon, their debut album's title 'Living Water' means much more than that. The first 1000 copies of this album to be sold will have their entire proceeds donated to Living Water International, which is a charity organisation that drills for water in deprived areas of India and Third World countries in Central America and Africa.

So, having established the genuinely noble intentions of Time Horizon, I suppose that the really important question is, are they any good? Thankfully I can answer with a resounding "Yes!" to that query, and if you have a penchant for melodic, AOR inspired prog, then I'm certain that you will too. The band themselves cite their influences as a mixture of Kansas, Boston, Styx, Spock's Beard, Saga and Neal Morse, and to be fair they have it pretty much spot on, with the majority of the songs on 'Living Water' combining progressive themes with layers of vocal harmonies, bags of melody and hooks galore. Drummer Bruce Gaetke also doubles up on vocals, and while his percussive work is spot on, it is really his vocals, the guitar work of Dave Dickerson and keyboard playing of Ralph Otteson that shines brightest on this uplifting CD. My own personal highlight of the album is the ultra catchy Kansas like 'Wonders', where the layers of vocals are so reminiscent of Boston's gloriously harmonic voices, making this a song that I can listen to over and over without ever tiring of.

There are plenty of other wonderful moments to soak in, with 'Life Fantastic' bringing on a slower Styx like vibe with touches of Saga, while 'I'm Not Alone' heads off into slightly more prog metal territory with its flashy guitar blazing and huge keyboards. Vocally Gaetke comes across somewhere between Neal Morse and unusually enough Stuart Adamson of Big Country, which contributes to his wonderful pitch and tone. As mentioned, he is no slouch on drums either and his slick grooves and punchy fills combine perfectly with the bass rumblings of Steve Gourley and together they really set the foundations from which the keys and guitars are allowed to flourish. Between the longer track there are a few shorter numbers and some almost interlude like tracks, with the song 'Time Horizon' coming on like 'Rendezvous' era Jean Michel Jarre, while 'Living Water Reprise' is a wonderful showcase for the layered harmony vocals that grace this album. I could however do without the admittedly excellently performed Spanish guitar bursts of 'Mi Chili Caliente', but that is a small complaint on an otherwise excellent album.

Now with Neal Morse as inspiration and song titles such as 'Wonders', 'Life Fantastic' and 'I'm Not Alone', you may have already picked up on the strong Christian themes that feature heavily in Time Horizon's lyrics. Personally (and as someone with no religious leanings whatsoever) I have no problem with this aspect of the band and in the same manner as Morse, or John Elefante manage to do, the themes fit the music perfectly.

Obviously Time Horizon and Living Water International deserve your support to help continue their excellent humanitarian work, but more importantly for potential purchasers, the album is well worth the investment on its own musical merits as well.
(review by Steven Reid)